"SHOW ME THE MONEY!!!!"

~Cuba Gooding Jr., Jerry Mcguire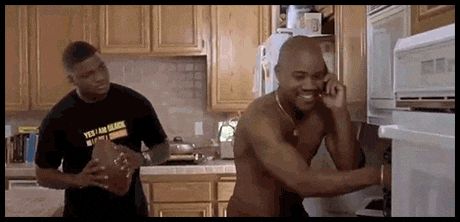 This phrase captured America's precious heart (presumably because it was rooted in the foundation of America's first principle: money over everything). I have never seen the movie Jerry Mcguire but I've long heard this catchphrase repeated, re-enacted and pressed out on shirts, solidifying it as a pop culture sensational slogan of a lifetime. Afterall, no one wants the money tomorrow. We all want it right now and would prefer it first! Although in many instances the work is done and the financial reward comes last, we still need some type of assurance that "the money" is coming with certainty.  Paperwork such as contracts and promissory notes exist in order to hold the other party financially responsible, and in the event of a fallout, capable of facing a lawsuit. It is my belief that this is due in part due to lack of trust as well as the unforeseeable trait that some people inherently have where they get personal enjoyment from taking advantage of others (in this case that would be not paying).
For this reason, the phrase "show me the money" became another one of America's beloved expressions and whether you saw Jerry Mcguire or not, you could still relate to the statement. Everyone wants to either receive their money up front or know without a doubt that it is coming because it is owed.
Which brings me to Tank .  .  .
. . . and his money shot.
The other morning, I awoke slightly before my alarm and rather than go back to sleep, I trolled Instagram. One short scroll through the shaderoom and I came across the R&B singer Tank, gazing out of a picture window while wearing nothing but his underwear.
  I believe these are called boxer briefs?
I stared, swiped to the next picture, came back and pondered as I looked with concern. I went to the comments to see what the public thought. Many women commented about the lack of eggplant protrusion and the absence of a big dick print. But there were some supporters, one in particular who said another one of pop culture's favorite phrases: "Maybe he's a grower, not a shower." This got me thinking. First thought, unless he was fresh off an orgasm, that thang ain't growing into too much more.
This got me thinking even further. 
How much longer are we going to promote the idea of hoping people grow into what we want to see verses either accepting what they have shown us (see Maya Angelou's statement about this) and not expecting more (also known as settling) OR, not accepting what they have laid out for us when it doesn't fit our needs and moving along until we what we are looking for?
Show me the money dammit!!!!
Think about some of the conversations you've had with people who took jobs at a pay less than the average (or what they were looking for). How many of those conversations included people complaining about the long road towards their desirable pay? Or how they feel boxed in or like they will always be behind because they started behind the average gun line? And how raises come in the smallest tenth of an increment so they never quite feel like anything changed when they get it?
That's why show me the money is such a popular saying. That's why we teach our kids at an early age to follow their dreams and go to college so they can get that headstart into the avenue of their choosing and don't spend too much adult time waiting on the big rewarding moment they should have started with. Our relationships work similar to this.  We can't ask to be shown the money and then refuse to pay attention to the small change that stands in front of us. Far too often, we women give men the 'grower not a shower' safety clause and expose ourselves to unnecessary stagnation and disappointment.
The growing/showing theory may be acceptable and at times plausible from the waist down, but from the neck up, it's an insufficient and ill-fated way of forming new relationships. Creating bonds with potential is grounds to get you heartbroken and when the ship sails, you know who you will be angry at? Yourself! I've spoken on this back when the blog was still A.M(use.D).  You will be pissed at yourself for not listening to and trusting your instincts, and you will have to endure the process of self-forgiveness, but only after realizing you are disappointed in yourself. So many layers.
Every reasonable human being striving for the best in life at some point learns that personal growth is infinite; there is no end to it. This isn't about finding the perfectly put together man. This is about knowing what you want, deserve and expect (also known as your own individual standards) and learning how to require certain things be present at the onset (show me the money).  For example, if I want a man with his own home, his own transportation, legal employment and no more than one child, I can't meet a guy who's freshly evicted or lives with his mother (because she is sick of course) and continue in pursuit due to his ability to grow at a later date. There is nothing wrong with being hopeful that a man will get his shit together but the law of self-protection has shown me that, that type of hope is reserved for friends and family; not someone you are trying to build with.
Show me the money dammit!
Show me that your PRIORITIES are together. < That line is the basis of this blog.
You can entertain poor priorities if you want to but you should know it may come at the expense of your heart aching. and gaining a future Ex. If you want a partner and want to truly create an abundant future with that partner, then the alignment isn't something you should be growing into together (or one by one). The equal yolk is supposed to be the attraction! It's the money shot!!! In one relationship, I was told "to love me and be with me means to accept me where I am and hope I get it together." That was a crushing blow to my heart. You know why? Because it was yet another money shot, but this time it was showing me that loving on potential is wasted talent. I should never 'hope' one day you will get it right; you should want it right. You should be intent on getting it right. You should come to the door with it right or stay out the game until it is.
One of the common denominators (besides myself) in my past relationships has been giving men the space to grow into the person I saw them as having the 'ability' to be. They presented themselves as a Tank picture and I smiled and told myself "maybe he's a grower, not a shower.' No money was shown (or was it???). No pudding proof found my silver plated spoon dipping in it. They showed me who they were and I saw who they could be. I have even told myself that their growth was contingent upon my presence. Meanwhile, time and time again, I held myself back and shrank myself in order to be on an even level with them. Growing instead of showing only works (whenever it does) in the boxer brief section of the world. But think of how small the men's underwear section is in any department store vs. all the other items inside. Life is bigger than dick-in-the-pants.And truth-be-told, everyone is showing their own version of the money; it's up to you to count the bills and decide if that's ENOUGH.
The problem with some woman, myself included, is we see beyond the wolf eyes and connect to the God in them that they don't see in themselves. Loving someone's higher self isn't going to translate into them behaving from their higher self. The result is going to be you, dimming your light and shrinking yourself in order to fit your love, expectations and authentic human experience into a box it never fit in.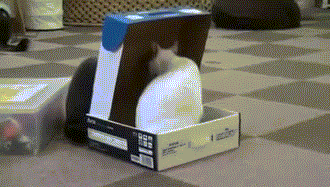 Look at you: Getting caught in a box. Busting out of the seams. Stressed for easy breathing because it's somewhat claustrophobic when you start to reduce yourself and put you last. This is a breeding ground for insecurities for BOTH people involved. Potential is beautiful. We all have it in some form. But some things can't be compromised into showing me later; they need to be shown NOW! Your authentic makeup should be presented upfront and that includes what you want and need from another person. If you don't see what you know you need, then the fair thing for both parties is to move on. Truth-be-told, everyone is showing their own version of the money shot;
…it's up to you to count the bills and decide if that's ENOUGH.
Let's say you fall in love with a grower (potential) and they don't fall in love with showing (living up to). Congratulations! You've just ended up with the Tank picture, which you can't be too mad at because it's exactly who he SHOWED you he was.  It was the money shot all along. Turns out, there was nothing to grow into.
Not everyone is going to live up to their potential.
Not every small, flaccid penis is going to turn into a giant, hard dick.
Make me and Maya proud:  Don't settle for growers.  And,
"When people show you who they are, believe them" (Maya Angelou) !!
Life comes at you fast! Make sure you're paying attention!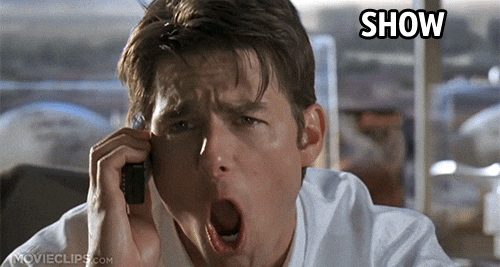 ~J
***Note: this blog in no way is meant to reflect any opinion on the size or growth abilities of Tank's penis….although I do have my own thoughts. O.O