Momma Zora,
I'm tapping into you for this one. Let us begin:
"If you're silent about your pain, they will kill you and say you enjoyed it"
~Zora Neale Hurston
Let's get this tea brewing.
Years ago, I watched the Loving Story documentary on Netflix. It detailed the fight of Mildred and Richard Loving, the interracial couple who fought the State of Virginia after their felony conviction of interracial cohabitation. They were sentenced to one year in prison and banned from Virginia. In 1967, the Supreme Court ruled against the ban on mixed-race marriages thanks to the efforts of the Lovings. They spent over ten years fighting and had eight years together after the victory. Richard Loving was killed in 1975 in a car accident that left Mildred permanently injured. She never remarried.
For me, they symbolized the endless boundaries of love and how it develops from the soul, not the eyes. They were also a testament to our short, unpredictable time here on Earth and how we have to be present for the moments in front of us. That means being oblivious or at least fearless to what others think or have to say. The way I respect and adore love doesn't allow me to take issue with interracial couples. Love is such an exquisite experience that whoever you are drawn to share it with, I say go for it!! If you find someone that is game to fight all the battles and never leave your side – if you get true, unconditional loyalty – who cares what color someone is? It's quite beautiful to see, and in all my anger and defiance, I will probably never stop longing for a love like that.
Now that, that is out of the way, let's talk about interracial cheating and my complete contradictory philosophy and issue with it.
For the rest of this blog, cheating will be defined as the following:
sleeping with another person
taking another person out on dates
a secret, non-disclosed or otherwise private conversations/texts/meetups with another person who you have been romantically linked to or find attractive
discussing your private current relationship affairs with a person you have been romantically linked to or find attractive
a secret friend on the side that you do not introduce and have been romantically linked to or find attractive
a secret friend on the side that you have introduced and minimized your contact/context with said person
riding shotgun, laying in bed, holding hands, accidental kisses, accidental fucking, 'we on a break' fucking
break babies
lying about your present relationship to a person you have been romantically linked with or find attractive
You know what the biggest gripe about cheating is? It makes the other person feel insufficient. At the center of it all, the biggest sore spot is the one where you begin to question yourself, especially if you have been blindsided. Being cheated on says, intentional or not, 'you were not good enough and this person was better.' The action verb of what this new person is 'better' at can be anything: listening, having sex, laughing, talking, etc. . . The bottom line is it feels like they scored higher on the SATs while you sit with a broken pencil still trying to solve question three on your fingers.
And who likes to feel inadequate?
When we add the opposite race to that stew, the beef we are cooking up is full of mad cow disease. I believe that being cheated on by a black man *** with a white woman leaves much more of a nauseating taste than if he cheated with a black one. Cheating is cheating; it's going to hurt either way. But when you are a black woman, a Loud & Proud black woman, full of fight, poetry and love for her people, and you are cheated on with a white woman . . .
whew. . .
The mindfuck is incredibly obtrusive. It makes you want to burn down the city. Throw the whole state away and start over with a new colony. It's a special kind of trauma. "Not only are you saying I'm not satisfying enough, but to add insult to injury, this white woman is better than me? This white woman is better at loving a black man, my black man, than me?"
Ohok. Interesting fucking concept.  . .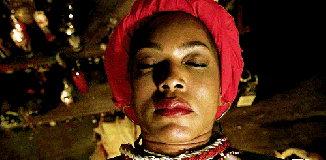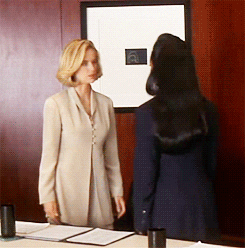 In 1995's Waiting to Exhale, Bernadine (played by Angela Bassett) slept with Herbert, a married man. The movie minimalized the affair but the book, which I haven't read completely, went more in-depth. Herbert suggested getting a divorce so the two of them could be together but Bernie didn't want that. She eventually stopped communicating with him. In both the movie and the book, she had committed adultery after having it done to her. She was complicit in disregarding and disrespecting a marital union in exchange for her own temporary and selfish needs. She put another woman in the position of wondering if she too was insufficient. BUT –
– – Bernie had only just been at the receiving end of an affair and thoughts of mediocracy within her own marriage. The difference – her husband cheated with a white woman. In thinking of the movie and the book, I wonder would it have hurt Bernie less if her husband had chosen a black woman to have an affair with? Is that why we put less focus or care on Bernie when she did it? The following excerpt was taken from the Terry McMillan's book, Waiting to Exhale:
"You know what? I hate black men who run to white women," Robin said.

"I don't hate them, " Savannah said. "But what kills me more than anything is they usually pick the homeliest ones they can find and the ones who don't have shit going for them."

"I hate the fact that they think white girls epitomize beauty and femininity."

"I hear you, " Savanna said. "But you know what?"

"What?"

"It doesn't bother me all that much."

"And why not?"

"Because i think people have a right to love who they want to. Who am I  to judge?"

"Yeah, but if our men keep running to white women, what does that leave us?"

"When you get right down to it, there really aren't that many who've crossed over. I think we just notice it more because we're black and female."

"So?"

"So I don't hold it against them. If a black man wants a white woman, that's his business. I've got too many other things to worry about. . ."
This exact conversation has played out at dinner tables, ladies nights and various other situations where black women are discussing interracial dating. Savannah took on many black women's attitude, mine included of, 'I just don't care. Date whoever you find attractive and dope enough to hang with you.'
But when it comes to cheating, I personally have a change of heart. The issue that Robin brings up is the grand ole' Opry of why interracial cheating hurts more than same race cheating.
"I hate the fact that they think white girls epitomize beauty and femininity."  ~Robin
White women have been the belle of the ball of the United States since it's inception.  They have inadvertently defined for our society what it means to be a mother, a wife, and a friend…what it means to be a woman. The white woman is America's Crown and Glory, while the black woman epitomizes its dark shadows and secrets. Black women are considered to be loud, obstructive and in the way, whereas white women are quiet listeners and lovers. They take care of home, husband, and kids and speak when it's their turn. Black women step out of line, can't be controlled, sleep around and need government assistance to take care of themselves. We are seen as ugly and almost masculine where protection is concerned – we are left to take care of ourselves (and expected to) while white women and their precious feminine tears are coddled and offered reassured security. Hell must be paid if a white woman is mishandled in any way, but black woman's reckless, unnecessary death underwhelms the powers that be. Look at the difference in treatment of former FLOTUS Michelle Obama, who was often referred to as a guerilla versus plagiarist-current–flotus Melania Trump who wasn't even reprimanded for her thievery. There are blogs and books written about white women being at the helm of the ship of racism. Massive numbers of white women turned out and voted in Alabama for Roy Moore who has been accused of several acts of sexual misconduct, at least one with a minor. But who will look at them differently? Certainly not the don't-take-my-guns-trump-supporting housewives.
When Women's Suffrage was taking place, those white women were fighting for each other; NOT to include black women. This country loooooves them some Susan B Anthony but she certainly didn't love us, black women.
During that era, Black women were [still] looked at as slave women who should be nursing and nanny'ing their white babies, not voting and enjoying human and civil rights. A great number of lynchings of black people began in the hands of a white woman. Emmett Till's death was based on a white woman's lies.
By now, you've seen pictures of white women scowling, spitting and yelling at black people for trying to integrate the schools during the era of segregation. If not, here are a few:
In some twisted sense of American pride, these women are the heart of the USA. Robin's comment about white women being the center of beauty and femininity isn't just a movie line; it's a reality that extends further than those two points. White women live their 9 lives on a pedestal that black women have to fight to reach. There is an unspoken can-do-no-wrong/see-no-evil that accompanies their birth that is not afforded to black women. So what does this have to do with interracial cheating? Well now, in a world that has intentionally attempted to devalue the black woman's worth in lieu of the white woman's assumed pure and untainted existence, cheating with one of them instead of one of us is a two-sided, jagged edge knife to the eyes.
If you recall in Waiting to Exhale, Bernadine was not just upset about being cheated on; she was brutally disturbed that it was a white woman and made no secret of it. I have come to the conclusion that it's not just the cheating. Oh hell, it may not have even been the cheating at all. Truth be told, plenty of us believe most if not all men cheat, so tons of women are prepared to deal with it IF that person is that person. But if you must find someone to replace what you think I am not performing well at, she better fucking be black!!!! ***NOTE: this is NOT me condoning cheating. I disagree with it strongly. But I also know that monogamy is a choice that love itself doesn't prepare one to make. 
Beyond the ramifications of interracial cheating lies the invisibility of the black woman in a relationship that she thought was her sacred place. It's been happening since the beginning of our time here. Our (black women) erasure always feels so open to the public. Even in private situations, the perception of being expunged can have one feeling like the world is watching and collectively not giving a fuck. Time Magazine released their Person of the Year tribute to the #MeToo movement while conveniently leaving the person who started it off the cover: 44-year-old Tarana Burke.
She created the #MeToo Movement ten years ago. On the surface you would think, "Well isn't it about the survivors and awareness? Isn't this helping?" The answer to THAT question is an undeniable YES!!! But travel internally and you may be able to notice the familiar pattern of lack of inclusion of black women. Of the five women on the cover (silence-breakers), any one of them could have sat out to allow room for the founder. . . no? Or what about one of those covers that are two-page foldouts? #WhatAboutInclusion 
I could give examples all day and create a new blog, but let's get back to the point, which is black women get fucked over and cheated on enough in everyday living. When it happens at home too, a new dimension of disrespect is opened.
Jill With the Stringy Hair
It wasn't a dark or stormy morning that day when I opened up my Facebook inbox to 14 screenshots sent to me by some woman named Jill. I had never seen or heard of her life before and now here she was in my inbox. There was a picture of me and questions about me. There were notices of I Miss You and confessions of dreams about her. All from the person I had publicly professed my love for. Jill with the Stringy Hair is what I call her. * shrug*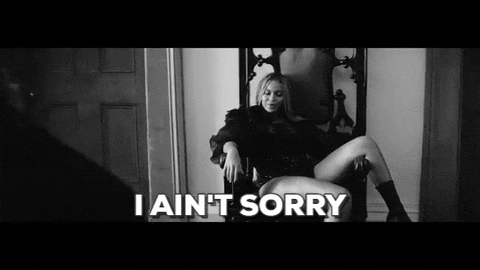 Our trust was broken instantly. I was downplayed in those texts. I was laying next to him when he was having those dreams about her. She knew the house I was moving into. She knew far too much for me not have ever met her. She laughed at me and called me a joke. Questioned how I could uplift other women and be with him. And the grand bomb: she was friends with my sister's brother.
I wasn't stupid – but prideful.
A PROUD black prideful woman. Perhaps I needed this relationship to help me check my pride because I should have ended it then. I couldn't go for a white woman breaking up my relationship. That's for another blog. I have been cheated on and I have been the cheater before. I know how this shit goes and what it feels like to dish it and take it. I know what it looks like to hurt someone with your disloyal, selfish ass behavior. I've grown the fuck up and out of that shit. My language in this blog tells me I'm upset.
I am.
"But what kills me more than anything is they usually pick the homeliest ones they can find and the ones who don't have shit going for them." ~Savannah, Waiting to Exhale
I was hurt to the highest degree I think I have ever experienced from being cheated on. This is not the same as interracial dating. This was cheating. "This man is cheating on me with a white woman???? AND she had the audacity to inbox me AND block me??!!!?!?!?!?!"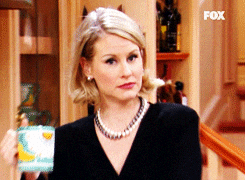 Jesus be a Lit Ball. I couldn't break my typing fingers enough to get to my 'free' page to look her ass up and get in her inbox. But wait –
"He's cheating on me with a white woman???"
The reality was that's exactly what was happening. I don't know how far it went, but it fits at least one of those bullet points too many. They were linked prior to me. She told me things about him that seemingly proved true in the end. I didn't know if she was gloating or trying to run me off, but it was all a violation. She laughed at me. Questioned how I could uplift other women.
Some bonds you can't break I suppose. If I saw them on the street and didn't know them, I'd be supportive. But their sneaky reconciliationOrWhatever behind my back, in ANY capacity, felt like taking lashes for your man only to watch him gallantly run to the warmth of the white woman in the big house.
It's been said that [sometimes] black men turn to white women because they are more docile and drama-free; they know their places. I've heard that last line numerous times. They don't withhold sex and are eager to please in whatever fashion. I'm not saying these things are true, I'm repeating what I've heard over the years. They aren't even 'bad' characteristics. But they are used as pedestal pushers against the black women who bear opposite traits.
I couldn't help but think "look at you nigga. I would've taken your secrets to the grave but you out here banking on this white woman to have your back. Is she a better listener? Or is it sexual? Did she provide better comfort when you were feeling the effects of the death of Philando Castile?  Is she more proud of you than me? She supports you more than me? Loves you better? Is she WORTH me?? This homegrown authentic, unconditional-as-can-be, black-love? And now look at her. She turned on you and sold you out for sport. Yet you trusted in her; not me. Go figure."
All this had me thinking recently. There is no denying that all betrayal is hurtful. Cheating creates doubts and questions where there may have otherwise been confidence and belief. I would have wondered those same questions if the woman was black. But there is still a different sting when she's white. Or maybe it's just me and the fictional Bernadine?
OR-
it could be that being erased in the media, corporate, and just about everywhere else doesn't allow for much understanding when it comes to our personal relationships? We need a sacred space where we are without doubt number one and that should be it. Black women shouldn't have to fight to be number one to a white woman anywhere, but especially at home in their own fucking beds.
And in the Gospel Section of K.Dot Lamar,
"that's just how I feel."
And I'll be damned if anyone says I enjoyed it.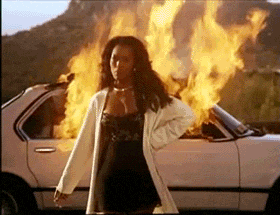 ***this blog is written from a heterosexual, black woman's perspective. Please feel free to change the pronouns as necessary, however, the race must remain the same.